Last but by no means least of the great naturalists who forged a path for nature writing was John James Audubon (1785-1851). He was a colourful character, which is reflected in his illustrations and writings.
The illegitimate son of a French slave trader and his Creole mistress, he arrived in America in 1803 to make a clean start. Mr Audubon was a self-made man; indeed, he almost made himself up. For a time, he ran dodgy financial schemes to make a living. John Keats' younger brother, George, was caught up in one of these – investing in a sunken steamer – and both Keats and Audubon lost their money.
It was not until 1826 that Audubon made his debut in the artistic community. Over the next ten years his massive The Birds of America was published, with 435 plates. His drawings were criticised by some at the time for their bright colouring but praised for their exact detail and dramatic lifelike representations.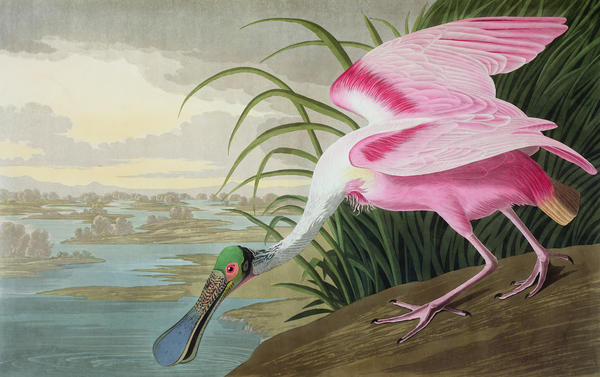 As Michael Branch argues, however, Audubon was also "a talented writer whose colourful descriptions of life on the frontier deserve a permanent place in our literature… Like Bartram and Wilson, Audubon understood the role of natural historian to be complementary with that of romantic author" (293). Indeed, he cast himself in the role of hero –  naturalist and explorer in the wilderness – and his writing is inclined to a little embellishment.
English was not his first language but, as his diaries show, he improved as he wrote. He didn't often extend to philosophy but his essays, in particular, or 'Episodes', demonstrate lovely expression as well as fine observation skills. Above all he got out there in the field, and saw the country and its inhabitants – man and beast – first hand, traipsing all over America. He believed that wild animals should be observed and pictured in their natural habitats. Some of the most impressive pieces are his 'Bird Biographies':
Their usual places of resort are the mountains, the abrupt banks of rivers, the rooky shores of lakes, and the cliffs of thickly-peopled or deserted islands. It is in such places that these birds must be watched or examined, before one can judge of their natural habits, as manifested against their freedom… There, through the clear and rarified atmosphere, the Raven spreads his glossy wings and tail, and as he onward sails, rises higher and higher each bold sweep that he makes, as if conscious that the nearer he approaches the sun, the more splendent will become the tints of his plumage ('The Raven': 566).
One of the portraits of Audubon has him posing with a gun and indeed, was rather too keen a hunter; he shot many birds (and other animals) ostensibly in order to study and draw them. This means lots of cringing as you read if, like me, you'd rather all little birdies were all let live. One diary entry, from the 18th October 1870, records "We killed 2 Pheasants, 15 Partridges – 1 Teal, 1 T.T Godwit – one small Grebe … and one Barred Owl…"
Despite his predilection for hunting, Audubon showed early environmental nouse, frequently recording his anxiety for nature's destruction:
Daily we see so many [Buffalo] we hardly notice them more than cattle in our pastures about our homes. But this cannot last; even now there is a perceptible difference in the size of the herds, and before many years the Buffalo, like the Great Auk, will have disappeared; surely this should not be permitted (341: Mississippi River Journal).
In his essays in particular, Audubon wrote of the "din of hammers and machinery" and "the woods … fast disappearing under the axe … and greedy mills".  He predicted that in a century, the forests would be gone.
Audubon had read and admired Wilson's Ornithology, which was apparently hard to get at the time. He found fault with it at times, however, suggesting Wilson hadn't actually seen some species himself, and aimed to better his work. When he met Wilson, although Wilson borrowed some of his paintings, he refused Audubon's offer of friendship, which suggests a certain smallness of character.
Audubon's drawings and writings brought the vanishing American wilderness to a popular audience. He was read with pleasure by Thoreau and John Muir, feeding the emerging writing imaginations of two of the great American nature writers.
Audubon, Wilson and Bartram foregrounded nature and wrote beautifully, blending science and romanticism and elevating natural history writing to literature. Change was on the wing, and the American nature writing tradition waiting not too far off, in the next clearing.
References:
Audubon, John James. Selected Journals and Other Writings. New York: Penguin, 1996.
Branch, Michael. "Indexing American Possibilities: the Natural History Writing of Bartram, Wilson, and Audubon." The Ecocriticism Reader. Eds. Cheryll Glotfelty, and Harold Fromm.Athens: University of Georgia Press, 1996. 52-68.